India is the greatest traveling extravaganza that a cyclist can ever experience. With its immense landscape and cultural diversity, India has something for every bike-packer and touring cyclist. Cycling in India takes you across a variety of landscapes, right from lush coastal routes on either the Konkan or Coromandel Coast to the high and winding roads of the Himalayas. Often described as a country that can delight, shock and thrill cyclists altogether, India provides both a challenging and exhilarating experience for every adventure cyclist. Cycling tours and solo/group bikepacking trips are emerging as a popular trends for many adventure seekers, not only in India but across the world. Earlier seen solely as a mobility and fitness sport, cycling in the form of touring and bike packing has enabled people to engage in different cultures, ride through landscapes and conquer personal endurance goals while in the pursuit of adventure.

Bikepacking vs Bicycle Touring


While both forms of adventure cycling are about seeking and riding the road less traveled, the terms "bikepacking" and "bicycle touring" are quite often used interchangeably. Bikepacking refers to cycling on remote off-road trails and routes, often unsupported, either solo or in small groups to explore the wilderness.
While bicycle touring refers to cycling long distances, seldom on mapped routes and roads, involving long distances that are supported and organized by adventure cycling tour operators like Cycling in India. 



Bikepackers explore the off-road routes that often present challenging route conditions out in the wild and having the bike and the bags to address those specific conditions is of paramount importance. Bicycle touring may typically involve panniers and racks on bikes that are meant for paved or light gravel roads. Essentially, all "bikepacking" is considered "bicycle touring", but not all bicycle touring is bikepacking. There are many types of bikepacking and bike touring adventures that may suit your riding style. Some prefer to start and end at the same place, keeping a simple loop around familiar or unfamiliar territory. Many cyclists prefer to engage in routes that require transportation to and from the start and finish or both. In the post-Covid era, guided bike tours are growing in popularity as people seek group adventures in a location of their choice. Organizations like Cycling in India, are providing that exact service and experience with support and guidance in some of India's favorite cycling routes. Lastly, an expedition – where there may be no end in sight for the cyclist and exploration knows no bounds, either off the road or on the road, perhaps across the entire Indian subcontinent.

Both bikepacking and bike touring involve long stints on the saddle, hence the most important thing to consider is the bicycle itself. Let's see some of the differences between a bikepacker's bike and a bicycle tourer's bike.

The Rig
Typically, there is no right bike for bikepacking or touring. For a bikepacker, a light bicycle with compact bags with either drop bars or straight bars with front or full suspension is enough for a short expedition in the wilderness. As for a cycling tour in India, they may carry more luggage that is strapped to panniers and racks and have enough supplies to tour the country. Touring bikes offer tougher frames and components, possess stiffer and rigid frames with a more traditional setup designed to carry heavier loads and come with rack and fender mounts at strategic access points for the rider.
Bikepacking bikes are lighter in weight, rigid in frame geometry to carry lighter loads and are much easier to maintain as they are modern bikes with more advanced components. The ideal bike for a bikepacker or a bike tourer should provide comfort for long hours on the saddle, be lightweight and efficient to power through the miles and be stable, efficient and rigid enough to carry heavy loads of bags and other equipment.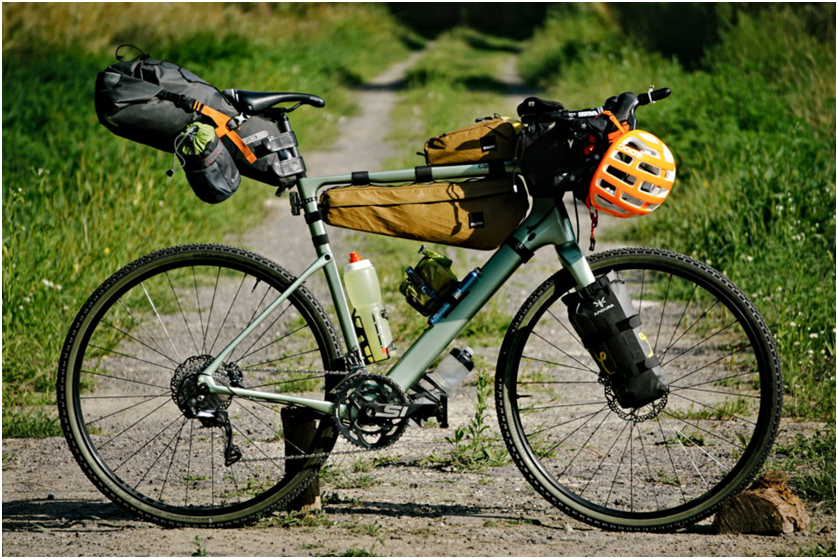 Both types of bikes are fitted with gear ratios that are required for challenging terrains. Ultimately, it's the route you decide that will impact your decision.

Equipment
Buying all the equipment is one thing, but learning how to pack it, fasten it to your bike and utilize it is something else. Bikepacking and bike touring involve extensive hours in rough conditions which requires the rider to carry the most important things with them and carry them wisely. A bikepacking rig and bike touring rig would typically involve the same kind of bags installed at all the strategic places:
A Saddle Bag
A Frame Bag
A Handlebar bag
Pannier bags
Bottle carriers
What the above-mentioned bags can carry is the rider's choice. Bikepacking bags are attached to your bike with straps of velcros or clips. They reduce the hassle of installing bolts and hooks to install equipment. For cycling in India, a big advantage of bikepacking bags is that they are compact and enable the rider to carry fewer loads and are hence considerably lighter. Thus, making the bike lighter and making it less physically demanding in challenging environments. Bikepacking bags, when installed have a narrower setup as compared to a bike-touring setup making them more aerodynamic.
Bike-touring setups are slightly more complicated as riders have heavier bicycles with the added weight of metal pannier racks and other frame mounts. Weight aside, the frames of touring bikes are more compact, rigid and wider which allows the rider to carry more equipment for longer rides, especially camping gear which is aided by the pre-added frame mounts. Additionally, the comfort factor on touring bikes is greater which provides a more relaxed posture for long periods especially on Indian roads. Packing pannier bags is much easier than packing bikepacking bags and allows for more items to be packed neatly.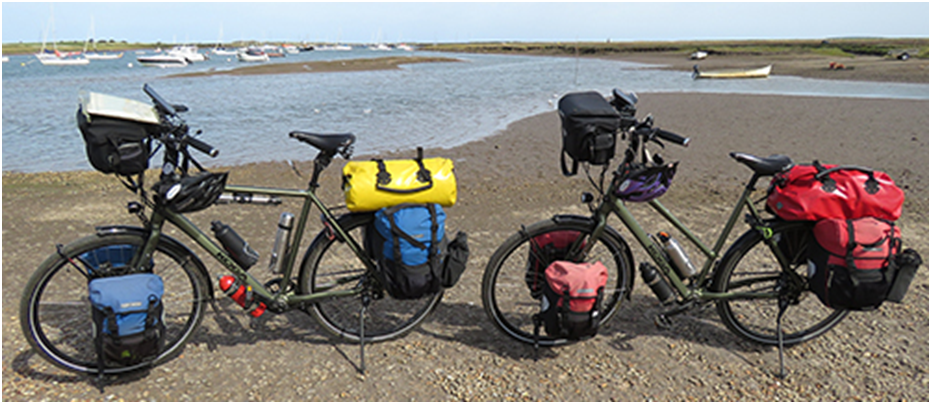 Planning and Life on the Road
Planning a bikepacking trip is not like planning a holiday. It's "hoping for the best and planning for the worst". Especially for cycling in India, keeping all essentials to ensure your safety and survival out in the wilderness, your tools, spare parts and your skills will eventually save you from disaster. There are 3 simple rules for bikepacking:
Know your limits.
Hydrate constantly.
Know your bike.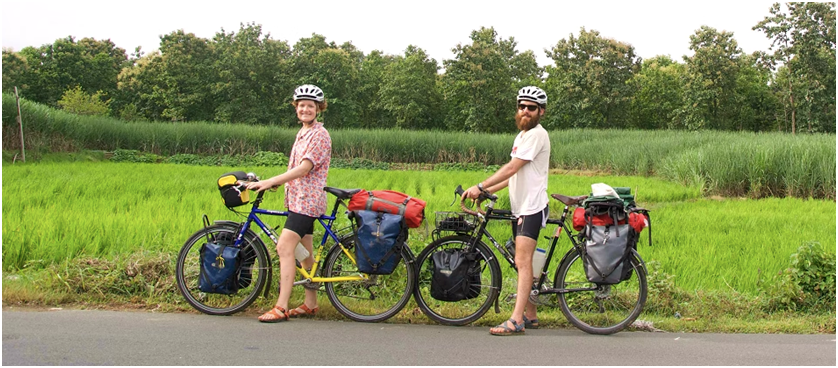 India's precarious road and traffic conditions pose unique challenges for adventure cyclists. Some may argue riding during the day will expose you to the elements of heat and pollution, but it is essential to understand your own limits. One of the biggest hindrances a bikepacker or tourer faces is the weight of the cycle, which will consequently reduce efficiency and speed. Thus, exerting more energy and eventually keeping the average daily distance low. Chart your route and estimate your daily mileage well in advance so you're not stranded anywhere without any energy and strength.

India – a country of extreme temperatures throughout the year, poses a huge test to adventure cyclists. Storing enough water for long days on the saddle is essential to staying energized and hydrated. Carrying enough hydration bottles and packs will ensure your survival in any condition or terrain. Remember to sip on water or electrolytes every 15 mins, even if you're not thirsty!
A lesson to all cyclists, beginners or professionals – get to know your bicycle. Before setting out on a bikepacking adventure or bicycle tour, accustom yourself to your bike. Possessing the know-how of fixing various mechanical issues like punctures, chain drops and gear tuning will get you out of a tricky situation, particularly if you're far away from civilization. There are several hacks and tricks to solve complicated mechanical issues available on the internet.
However, if you're on a guided bicycle tour in the countryside, fear not, as organizers and tour operators like Cycling in India do have support vehicles that not only chart out the route on a daily basis but also provide mechanical assistance to cyclists as and when required.
Cycling in India is surely challenging yet exhilarating. While bikepacking, it is of utmost importance to plan your route well. The route you plan will determine the kind of gear you need. Bikepacking in the wilderness will require more research and meticulous planning. Apps like Google Maps, Strava, RidewithGPS and Komoot already have routes that other cyclists have ridden in a given area.
While studying the route, map out bike shops to fix any mechanical issues, restaurants and cafes to fuel up nutrition-wise, fuel stations to wash and change up if needed and lastly, pharmacies and hospitals for medical emergencies. Bikepacking is sometimes considered an extreme sport, as cyclists have to rough out the elements and often fend for resources themselves in extreme conditions while meticulously planning the route.
If you're on a bicycle tour, be it with a partner or through a cycling tour operator like Cycling in India, it is still important to study the route that you'll be riding on. Adventure companies usually provide a well-defined itinerary on long guided cycling tours with support vehicles, plenty of food, hydration and even well-suited accommodation at either hotels and homestays or even pitch tents in safe locations along the route.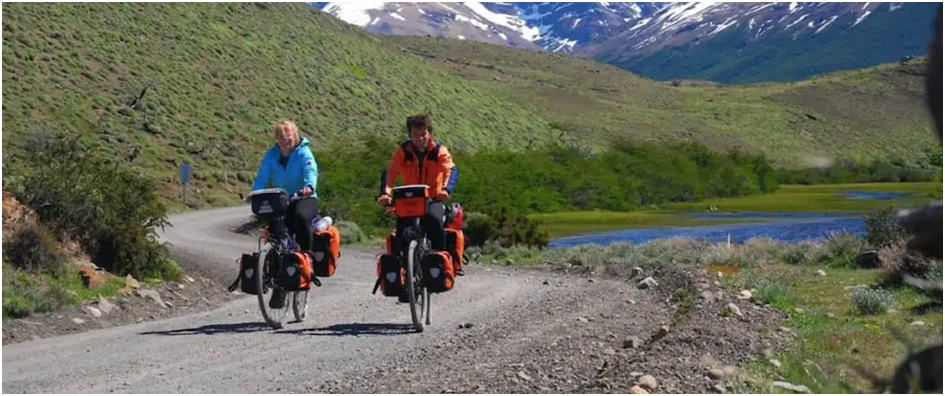 Live by the bicycle
There is no clear-cut answer as to which form of adventure cycling is better. It purely depends on the choice, character, personality of the cyclist and the terrain you choose to ride on. While bikepackers pay special emphasis on packing the most minimal yet functional equipment to last for a few days, bike tourers choose to go for more bulky setups, albeit adding more weight but granting comfort for even a world tour.
Bikepacking and bike touring do involve significant cost and fastidious planning, especially for cycling in India which involves extreme weather conditions, diverse cultural indulgences, endless exploration through a wide array of landscapes and variable road conditions across several terrains.
Organized tour groups like Cycling in India offer some amazing itinerary-based cycle tours across India. Have a look at some of the experiences they have to offer.