If you really want to explore the wilderness of the mountains, in India, then North-East India might come to your mind. Especially because it's much less explored than Leh-Ladakh or Uttarakhand. After researching on the internet I saw that the old silk route is a nice loop starting from Kalimpong and going right up to Gangtok.
It passes through spectacular mountain passes, remote areas and truly shows the ruggedness of mother earth. It's quite famous among bikers where they do the complete loop in around 4 days. We thought why not let's do it as Mountain bikers. That nomadic urge couldn't stop me and my friends to start planning for our next adventure to the old silk route. But, we could only manage to squeeze in a 4-day leave because of the long weekend. As a result, we were going to do half of the route this time i.e. Kalimpong to Zuluk.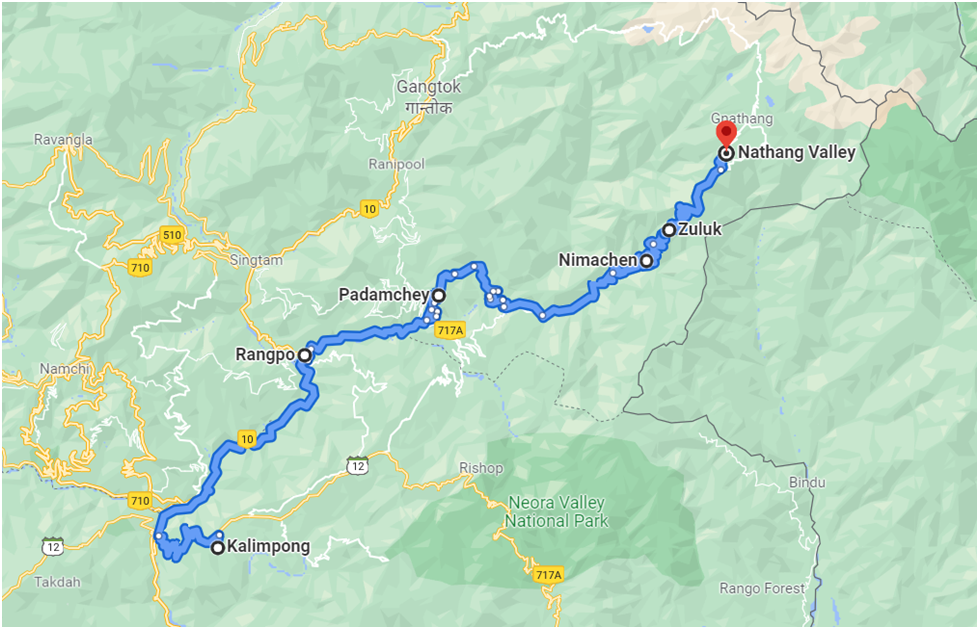 Day 1: Bagdogra to Kalimpong
It was Thursday and the month of September. We landed in Bagdogra – West Bengal and started our journey towards Kalimpong. As we were approaching Kalimpong, we could feel the drop in temperature. It felt like we are back home where we really belong- the mountains. The Sikkimese and Bhutanese cultures were quite evident looking at the surroundings there. It felt good to be here.
We checked in our hotel at around 11 am and went straight to Rongli Bazaar to get the permit to Nathang valley. This is necessary to be taken as we will be close to the border. The office here is open only on weekdays and till 2 pm only. It took us around 30 minutes to get all the formalities done. Post lunch we explored the banks of Teestha river and the local market of the city. Made our bikes ready for tomorrow and went to sleep. Tomorrow is going to be a big day in the mountains.
Day 2 Kalimpong to Padmachey (55km)
The elevation gain is approx 850m. So, we had kept a good 12 hrs to complete this difficult but super scenic journey. We started early morning at around 6:00 AM from our hotel. The weather was cold and the surroundings calm. We could hear the waters of the Teestha river just beside the road. After a few kms of pedaling and getting out of the city, we caught the sunrise. And the view was simply spectacular. Having hot steamed momos as our breakfast and enjoying the sunrise along the Teestha river, what an amazing combination.
As we started climbing upwards to Padmachey, we noticed a number of prayer flags along the roadside. Later understood that it is the culture of people over here to tie these prayer flags on trees in the forests. Winding roads, dense forests, and stunning views wherever you look, is the short description that I would give to this particular patch of road. At around 35km mark the Teestha river merged with Rangpo chu (river). We reached here at around 10:00 AM. Yes, we were pedaling very slowly, taking a lot of pictures. On the route, we spotted a group of children playing football in a small ground and joined them for a game. What an amazing experience it was interacting with the local kids. Whistling through the winding roads we reached our homestay in Padmachey at around 1:00 PM. Probably the slowest ride of our lifetime. Greeted by Cycling in India personnel, we explored Padmachey's local attractions for the rest of the day.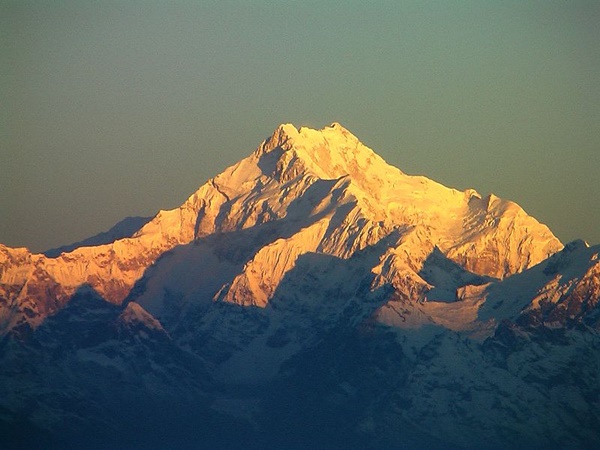 Day 3: Padmachey to Nathang Valley (70km)
Today was the day when we were actually going to explore the mountains. The unlimited number of hairpins, rustic nature, amazing views and maybe suffering on your cycles, were waiting for us. From Padmachey is where the real old silk route starts. We started in bearable cold weather from Padmachey at around 6:00 AM, loading our cycles with plenty of food and water for the terrain we were going to cycle on today.
Just a few kms of cycling and the desert mountains started to show up in front of us. It was scary but satisfying at the same time. We could spot many yak herders grazing their yaks along the road. Of course, we could not resist taking a photo with them. With plenty of eating and photography breaks, we reached Nimachen at around the 34km mark by around 10:00 AM. A curious and impressed local came towards us and asked, "Are you all going till Nathang Valley?". With a proud feeling, we said, "Yes". Upon which he wished us the best of luck and warned us about the numerous hairpins and afternoon sun that we were going to face for the next 15kms.
And yes, he was right, toiling up those 32 crazy hairpins, we reached Thambi View Pont at 11,000 ft. Was it worth it? Well, of course, the view from here looking at this engineering marvel was simply amazing. The road looks as someone had just thrown some noodles on the mountains. It was a very satisfying feeling looking at what we just cycled through. The journey from here to Zuluk and then later to Nathan valley was not an easy one. But definitely, it was enjoyable. We passed Lungthung viewpoint at around 13,000 ft and reached Nathang valley which is 12,797 ft, covering 70kms and impressive amount of elevation for that distance.
Day 4: Nathang Valley to Baghdogra
Yesterday was tiring so we had slept early and also with an aim to catch the sunrise at Thambi View Point. Cycling in india had arranged a support vehicle for us for the last day. Our plan was to catch the sunrise at Thambi viewpoint and reach Bagdogra to catch the evening flight to home sweet home.
Coming back to the sunrise, we left pretty early at around 5:30 AM to cycle 10km mostly downhill till the Thambi View Point. It is an unforgettable experience to watch the sun, show itself slowly coming out from each hairpin turn, painting the sky in orange. Simply amazing. Add to it, we had selected an isolated spot from the crowd to enjoy the sunrise.
An amazing short and sweet adventure had come to an end. But, we were definitely going to return back to explore the next half of the old silk route. I am sure it will have its own charm and something unique to offer. Mother nature never disappoints us. Especially when the tour is so well organized by the folks at Cycling in India and of course when it is on our humble cycles.