Anyone who has been cycling must have surely dreamt of cycling in the Himalayas. The mighty mountains of north India and picturesque landscape are simply mind-blowing. It's completely natural to dream of cycling here. But, what if I told you, south India has a lot to offer too. Just replace the beautiful snow-covered mountains with lush green ones, and the scenery the terrain here has to offer is at par with the Himalayas. Of course, it's my opinion, you might disagree. But, you will definitely agree that the south has a plethora of options to satisfy your taste buds and very much tolerable weather conditions as well.
So, let me take you on our mini adventure from Coorg to Munnar a cycling tour of South India, mesmerizing enough to make you believe that you are no longer on earth. Tea and coffee plantations, gradually inclined hills, and unlimited waterfalls along the way. It's a treat not only for your eyes but your nasal sense as well. I visited here in the month of October, just as the rainy season ended in India. 480kms of the delightful journey where except for the sky and the road ahead of me, everything else I could see was covered in green.

DAY 1 Coorg to Wayanad (119 km)

It was early morning, and my flight landed in Mangalore. Thanks to the logistics planning done by cycling in India, I immediately put my cycle in the pre-booked cab, and I was on my way to Coorg/ Madikeri. This time I was cycling solo. Reaching Madikeri by 9:00 AM, I unpacked my cycle and had a sumptuous south Indian special breakfast. Started cycling at around 10:00 AM. The weather was pleasant, cloudy, and a good day to ride.
I had not even started my journey and I could feel the difference in the atmosphere immediately. With the clean air, and lush green forests around me, I was super excited. It truly justifies its name as the Scotland of India. Cycling on the rolling terrain I could spot a few rubber plantations. A vessel wass tied around the rubber trees to collect the rubber extractions. It was quite misty today. Later upon inquiring with one of the locals there during lunchtime, I was enlightened to know that it's misty throughout the year. On hearing this, immediately the thoughts of settling here started to pop up in my mind. Anyway, distracting myself, I continued my journey. Passing through the large coffee plantations, the scenery changed to dense forests of the Nagarhole tiger reserve.
Luckily for me, it was a busy day on the road with cars and locals passing by in a minute or two. It helped me feel safer as I was passing through the jungle. Finally, at around 5:00 PM I reached Wayanad. On the route, I could see the wildlife safari jeeps getting ready for their evening tour to spot the big cats. I reached the hotel, had Koli curry and rice for dinner, and had a good night's sleep.
DAY 2 Wayanad to Ooty 118km
Today, was a big day. A long climb to Ooty was waiting for me. I was fully ready to tackle any climb as I knew that my legs and the views won't disappoint. I started early at 6:00 AM, as I wanted to go slowly, taking in the beauty of nature. This is one of the perks of cycling solo, that you get to decide the plan and don't need anyone's approval. Anyway, I started pedaling and within a few km, as I left the town, the picturesque landscape started showing itself. I stopped many times without feeling guilty of being late or whatever and took a ton of photos.
I was officially in Tamil Nadu, at the base of the Ooty climb and the start of yet another forest. This was the Mudumalai Tiger Reserve. The weather was clear, the temperature, pleasant, and the roads windy. Today it felt like a much-isolated road. The scary feelings of Tiger spotting started to crawl up in my mind. At around 12:00 PM I stopped for lunch. Over there, I just casually asked the owner of the hotel about tigers coming on the roads, to which he said, 'yes there have been some sightings but they never attacked humans till now.' His words gave me some encouragement and reduced my fear a bit. 'A bit' is the keyword here, because who knows.
Just 20km left before I reach Ooty, and the traffic started increasing. I felt a sense of relief and started noticing the tall trees around me, and the small waterfalls along the road as well. I reached Ooty at around 3:00 PM. The climb was gradual but yes it was a long one and hence felt a bit tired. I took some rest and had Thalia Puttu dinner in a local restaurant. It was delicious. On to the next day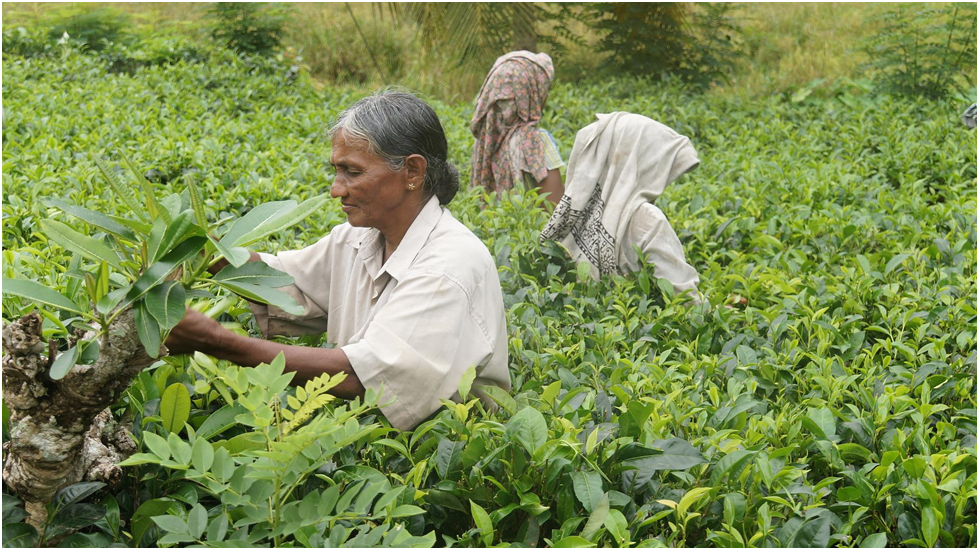 DAY 3 Ooty to Pollachi 130km
My hotel room was on the ground floor and had a large window. I woke up and saw dense fog outside the window in between the trees. Surprise looking at the clock, it was 8:00 AM already, but it didn't feel like so. It was going to be an awesome day of cycling in this weather and guess what, it was all downhill and flat ride today.
I started cycling at 9:00 AM with a sumptuous breakfast of IDLI Sambar. Cycling downhill through the windy roads and cascading hills with tea plantations. Wow, what an experience. I even stopped and decided to take a detour, by cycling into the plantations. It was an unforgettable experience to cycle on that rough walking road with a vast area of tea and coffee plantations all around me. Met one of the farmers over there who was working in the area. He was curious to know about my cycling adventure, and journey, It was nice speaking to him. He even offered me some freshly made tea, but I had to politely decline as I had around 70kms ahead of me and it was already 2:00 PM
The rest of the road was also superb with some amazing views at every corner. I left the forest, entered Coimbatore, and reached my hotel in Pollachi around 6:00 PM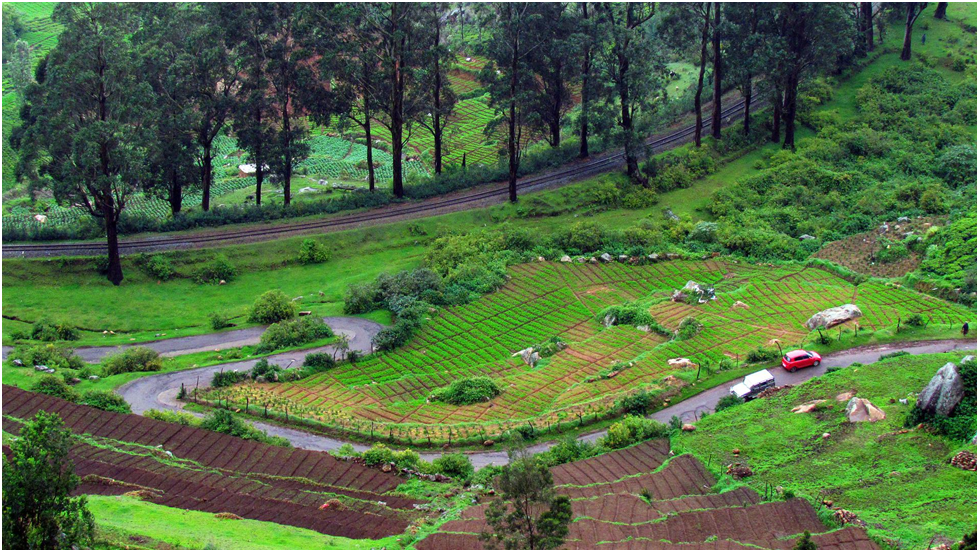 DAY 4 Pollachi to Munnar 115km
Starting on the hill station of Madikeri in Coorg, I was going to end my ride yet again on the beautiful hill station of Munnar. The Anaimalai Tiger reserve and once again a long climb was waiting for me today. After 3 back to back century rides in the last 3 days, the body was feeling a bit tired, but the mind wasn't. As we say in cycling Shut up mind, so, I believe I was good to go as the mind wanted more of it. Thanks to the mesmerizing views and amazing climate I was offered.
I started cycling at around 7:00 AM, and the weather was cool. In no time I was at the base of Munnar, the long but gradual climb started. My legs were feeling good until a local farmer doing his chores saw me cycling. He was just beside the road, working in his farm and he offered me some freshly made tea, right from the farm. It was so nice of him. Probably he saw the suffering I was going through and empathized with me. Honestly, I was doing good, but could not deny his offering. The taste was pleasantly different, I could tell that immediately. I thanked him for the tea and after a small chat continued my journey.

I would consider myself lucky, as in my cycling adventure till now, I didn't face any mechanical problems. Probably because I always get it checked thoroughly before an adventure. Anyway along the way, filled up my water bottle in a nearby waterfall. Yes, it is safe to drink. Cycling through the dense forests of Anaimalai Tiger reserve, I reached Munnar at around 5:00 PM.
An amazing adventure comes to an end. The next day, I took a lift from Munnar to Kochi from a tempo driver. Got my cycle packed from a local bicycle store in Kochi and took my evening flight back to the pavilion. Overall it was an amazing journey, challenging in terms of terrain and equally scenic all along the way. Cycling solos has it own charm but definitely missed the group in lonely areas of the tiger reserves. Thank you so much for reading. Do let me know your thoughts on this journey. Have you done this route? If not would highly recommend it.